Rt. Revd. Simon Patrick became Bishop of Chichester and later of Ely.
A modern plaque by the memorial to Simon Patrick in Ely Cathedral says:
Bishop Simon
Patrick
Bishop of Ely 1691-1707
---
Bishop Patrick took a warm interest
in the Society for the Promotion of
Christian Knowledge (SPCK) and the
Society for the Propagation of the
Gospel (SPG), both of which were
founded during his episcopate.
He left many books to the
Cathedral Library in which his
bookplates still remain.
---
Oh, how I love your law! It is my mediation
all day long.
Psalm 119:97
Here are photographs of the memorial (Photographs by Simon Meeds).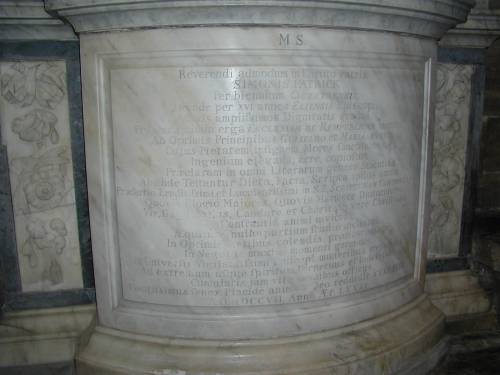 The inscription on the base of the memorial reads as follows:
Reverendi admodum in Christo Patris
SIMONIS PATRICK
Per biennium Cicestrensis,
Deinde per XVI annos Eliensis Episcopi;
Arthos (?) amplifisimos Dignitatis gradus,
Propter eximia erga Ecclesiam ac Republicam merita,
Ab Optimis Principibus Gulielmo at Maria, evecti
Cuius Pietatem insignem, Mores sanctissimos
Ingenium elegans, acre, copiosum,
Praeclaram in omni Literarum genere Scientam
Abunde Testantur Dicta, Facta, Scripta ipsius omnia,
Praesertim Eruditisimi et Luculentisimi in S.E. Scripturam Commentarii
Quovis Elogio Maiores, Quovis Marmore Diuturniores
Vir, ficiustatius (?), Candore ey Charitate vere Christiana
Constantia animi invicta,
Aequitate nullo partium studio inclinara.
In Optimis Artibus colendis, promovendiscis (?)
In Negotiis maximi momenti gerenais
In Universis Vigilantissimi Episcopi muneribus explendis
Ad extremum usque spiritum Perpetuus at Indefessia (?)
Curculatis iam vita omnibus officiis,
Pientissimus senex Piacide animum (?) Deo reddidit XXXI May,
A.D. MDCCVII, Anno Aet. LXXXI.
There are question marks where either the memorial or my photograph isn't clear. My Latin is very rusty and was never very brilliant, so I haven't tried to translate it. If you would like to provide a translation then please do. I can supply a higher resolution photograph of the inscription if you want to try to work out the unclear letters.
Near to the memorial to Simon Patrick is a stone in the floor in memory of his wife (Photograph by Simon Meeds).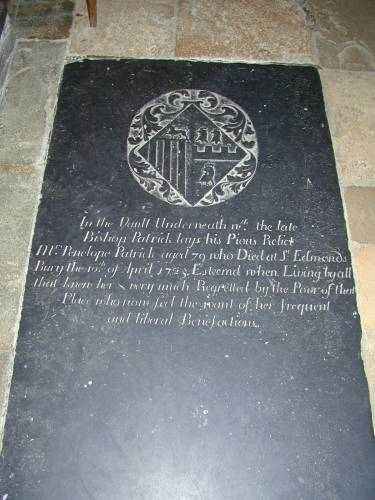 The inscription on this stone reads:
In the Vault Underneath nth. the late
Bishop Patrick lays his Pious Relict
Mrs. Penelope Patrick aged 79 who Died at St Edmonds
Bury the 10th of April 1725. Esteemed when Living by all
that knew her & very much Regretted by the Poor of that
Place who now feel the want of her frequent
and liberal Benefactions